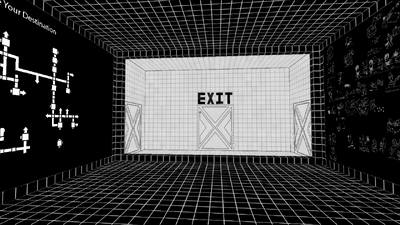 The Main Hub is an interactive 3D environment that contains the main menu of the game on its walls.
The main hub looks and behaves just like any other room in the game, except that the walls, floor and ceiling are black rather than white and that there are game controls on the walls. The floor and ceiling simply contain a grid of white lines. One wall contains a listing of the pictures from all the Signs that have been discovered so far and the text on them. This is known as the Moral Wall. Moving clockwise, there is a wall containing the game Controls and settings, titled "All You Need to Know" and the countdown timer. The next wall contains the Map, which is used to choose a level and load it. The last wall is a glass wall, behind which is three doors, one being labeled Exit.
The main hub is entered when the player first starts the game. After entering a chamber, it is always accessible by tapping the escape key. Entering the main hub will strip the player of their Matter Gun, although it will return after choosing a room to go to, it is not possible to use any Matter Gun inside the Main Hub and all Cubes previously inside the gun as well as Cubes placed on the Map will disappear.
See Also
Edit
Moral Wall
Map
Controls
Puzzle Pages